If you are in the market for lighting that will turn your space into an extravagant but contemporary experience, then you'll love to dish out some inspiration from our latest project with The Landmark Sydney. We were lucky to partner with Brisbane based architectural lighting and design company Caribou Lighting, who were an incredible team to work with!
This Hexagonal LED lighting design offers a virtually seamless look with a spacious feel giving the nod to the age of minimalism. Introducing geometric interior architecture across the ceiling creates an opportunity for dynamic, energetic, and/or rhythmic design themes.
If you're interested to find out more about the process, keep reading to discover how we turned this lighting brief into a modern architectural work of art for The Landmark Sydney.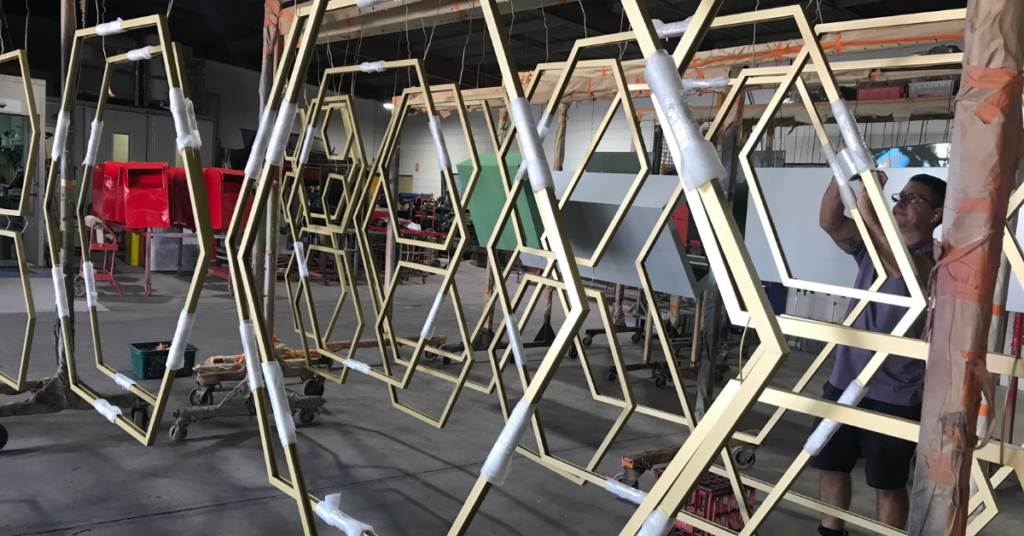 For this project, fabrication had to be on point – we took extra care in assuring that the design fit our client's brief to a tee. Our tailored service included a consultation session where we discussed all the specifics of the design with the Caribou Lighting specialist team. We decided on a design that optimises on both space and strength with trend-setting characteristics that have been inspired by luxury brands like BMW.
The brief called for attention to detail, so material modification was done in house by our team of fabricators and milling/turning machinists. Jigs were made for the mill so straight clean lines could be achieved. Our team took care of the details for every stage of the production, which included sharp welded edge points on all 60-degree corner joints, resulting in a flawless commercial finish.
To meet these specifications, we used an aluminium channel with a custom profile in order to modify and dress all edges before we began assembly. Longlasting quality workmanship is always at the top of our list during the production and assembly stages of manufacturing while making sure to build to the size specification and the appearance requirements. After offering our custom colour books and the client had selected their colour, we provided samples for sign off before beginning the painting process.
During the painting process, our team got to flex their creative expertise with some improvisational techniques. With the challenge of no hanging holes, the painters creatively made their own hooks to suspend the light fittings so there would be no hook/touch marks. Like APT Spray Painting Business Founders, Ben and Linda say, "It's all the little details that make for a perfect finish!"
If you have a commercial or industrial building project, APT Spray Painting has your needs covered. Our team has the expertise, backed with over 30 years of experience to spray paint your commercial assets with the right paint and with the right technique. To enquire about our professional spray painting services, be sure to get in touch with our expert team.