At APT, we often get customers who are project managers, workshop managers or engineers, and one of their primary concerns is the UV stability of their plant and equipment. In industries like mining, construction and manufacturing, expensive machinery and infrastructure can often be left outside for long periods. So it's vital that they're protected from UV exposure and our harsh climate. Below we have explained the process we went through when a client recently brought their receiver tank to us for a new protective paint coating.
Applying Protective Paint To A Receiver Tank
This receiver tank is housed outdoors and was in structurally good condition, but the constant exposure to the sun and the elements meant that the protective paint coating was flaking off. If the tank wasn't repainted soon, it was going to start to rust.
While the tank doesn't get a great deal of chemical exposure and doesn't get particularly hot, it was critical that the protective paint coating was robust and able to take the occasional small ding and be UV stable.
The first step was to sandblast the tank so that we could remove all of the flaking paint. Immediately after blasting (and before any rust had time to form), the tank was cleaned, jigged, and rolled into the paint booth. The handling of the tank was a bit tricky as it weighed 700kg and measured 5 metres by 1.5 metres, but our team of experts are used to carefully manoeuvring large plant and equipment.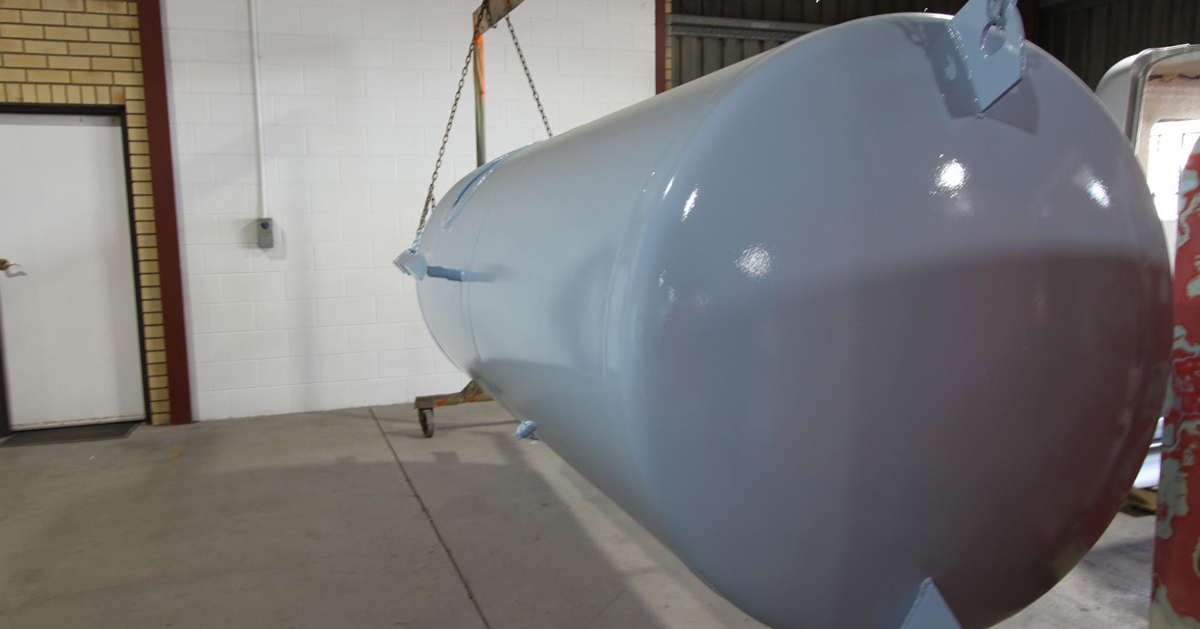 Once in the spray paint booth, the receiver tank had two coats of epoxy (which sticks to steel like cement), zinc-rich (prevents corrosion), 2 pack primer applied. The primer used was high build, which helps to smooth out any small dents. The primer was then left to cure for 24 hours and then the tank was lightly sanded and recleaned.
We then applied multiple coats of a high quality full gloss, UV stable, polyurethane 2 pack top coat. At this stage, we had already colour matched the new paint to the existing colour on the tank. We opted for polyurethane paint because of its smooth, 'self-cleaning' properties. The UV stability of the paint was vital as this tank lives in full sun exposure.
If you have any heavy machinery, plant, or equipment that needs a new protective paint coating, our team of experts at APT Spray Painting knows precisely how to help. If you have any questions, get in touch with us today!