When you require a more professional or higher quality finish for your paint job, the 2 pack process is the ideal choice rather than traditional spray painting methods. 2 pack paint can be made up of many different chemicals such as polyurethane, acrylic and epoxy, which means that it has the potential to be toxic if not applied in suitable environments. Luckily, at APT our 10m x 5m x 3m, semi-downdraft booth is specially designed to create an environmentally controlled space for spray painting, meaning that we can complete all 2 pack painting jobs in a completely safe and non-toxic environment.
2 pack paint has several benefits as it provides a much more luxurious finish while also being more durable and difficult to damage than traditional finishes. What's more, 2 pack is easy to clean, lasts longer and doesn't peel. At APT Spray Painting when using 2 pack, we can colour match for our clients and ensure that it doesn't react negatively to old paint coats prepared by a professional.
Many of these benefits mean that 2 pack prevents water damage and helps to waterproof the object that you are working on. We have worked with several clients who have required a spray painting service that will also protect their objects from water erosion: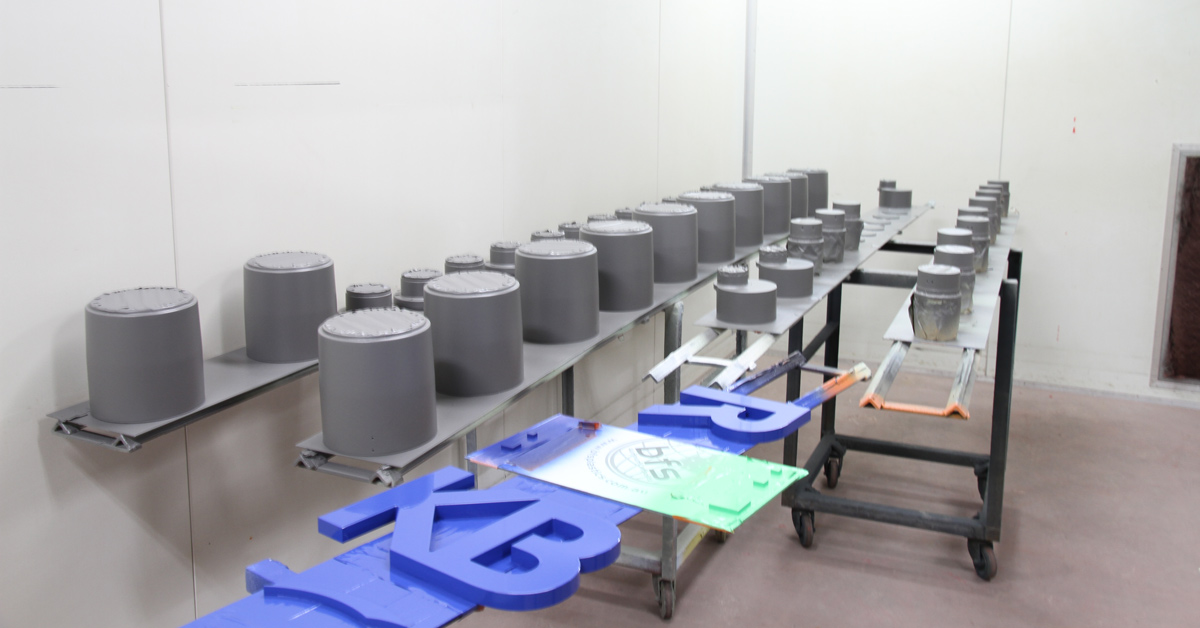 The Navy has previously enlisted the services of APT Spray Painting, and the above image shows several sets of Navy binoculars that we painted to the client's exact specifications. This job required a great deal of expert masking to ensure that the paint did not interfere with the vision or intricate mechanisms of the binoculars. It was also of the utmost importance that the paint and the binoculars could withstand long periods of exposure to water without incurring damage, rust or erosion. We delivered a highly durable, sealed and professional finish which the client was exceptionally pleased with.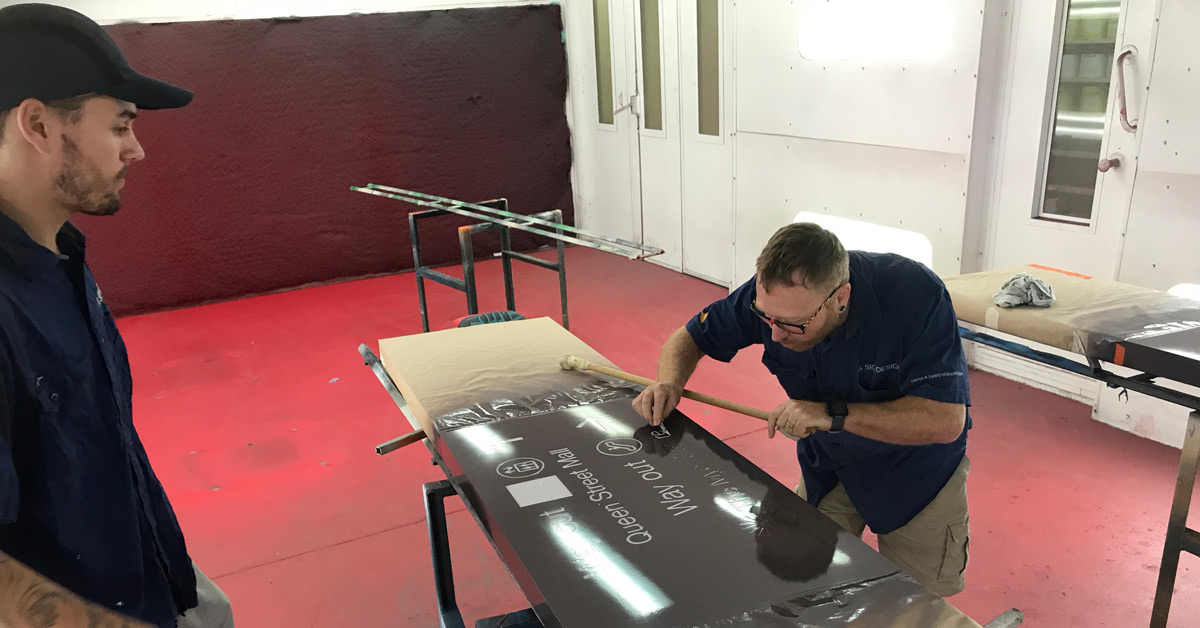 The above photo shows the talented Jarrod and Justin from A-Sign Design, working on some beautiful signage for Brisbane CBD using acrylic, vinyl and 2 pack. The 2 pack paint was made up to meet the colour scheme already established by the client. Here again, the strong waterproof qualities were vital in our work for this client. Signage can be exposed to a range of harsh Australian weather conditions, from extreme humidity to subtropical storms. The signs will be protected from water damage and will maintain a professional and glossy finish for years to come.
All you have to do is glance across the Brisbane skyline at night, and you'll see cranes scattered throughout the city. This is because Brisbane's construction industry is booming and thriving as the city is continually developed and expanded. We can paint construction industry equipment to the highest standard with a heavy-duty finish. Construction machinery is used and stored mainly outside where it is constantly exposed to the elements. Our paint will protect it from the wear and tear of the building site as well as preventing rust and water damage.
At APT Spray Painting, we never compromise on quality. We are experts in commercial spray painting and can provide you with a heavy-duty and durable finish which won't be compromised by even the harshest weather conditions or extremely long periods of exposure to water. Unlike some of our competitors, we don't expect that you'll have to revisit us for a touch up somewhere down the line, because we believe in doing the job right the first time. Get in touch with us today to get a quote for specialist commercial grade, waterproof spray painting.